Blue Light Diploma
The community of interest of "Radio Amateurs in Aid Organisations" issues the "Blue Light Diploma", which radio amateurs and SWL can acquire for radio communications and SWL confirmations after 16 January 1997 (date of foundation of IG FiH) with members and club stations of IG FiH.
DL stations must score 30 points, non-DL stations must score 20 points as follows:
| Scoring… | on HF | on VHF |
| --- | --- | --- |
| FiH club stations (DxØFIH) | 6 points each | 9 points each |
| Club stations of an aid organisation that are a member in the IG FiH | 4 points each | 6 points each |
| FiH members | 2 points each | 3 points each |
One of the FiH club stations (DxØFiH) is mandatory for DL stations.
Each call sign can only be rated once. There are no band or operating mode restrictions; contacts via relays or digipeaters are also permitted.
Further notes
The members of IG FiH are divided into organisational groups (1st letter of the membership number) and into activity groups (2nd letter). If the diploma conditions are only fulfilled with stations from the same organisation group and/or from the same activity group, this will be noted on the diploma.
The club stations of aid organisations only carry the 1st letter in their membership number and therefore count for all activity groups. The club stations of IG FiH do not carry any letters in their membership number and therefore count as wildcards for all organisation and activity groups.
A list of members as well as a mapping of the letters in the membership numbers, and further information of IG FiH, can be obtained with SASE from IG FiH or via our homepage.
Diploma manager
Diploma manager is Gisela Goergen, DG9NGO, Moselstr. 6, 90542 Eckental. The diploma can be applied for with a GCR list (confirmed list of existing QSL cards).
Fee
The diploma fee is 5 euros or 7 US dollars.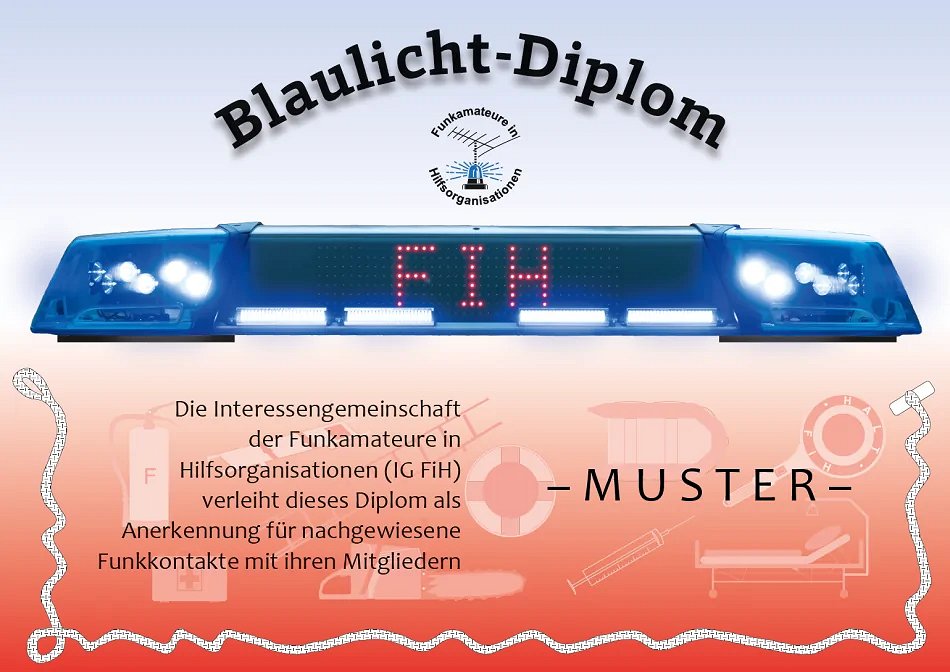 Appearance
The diploma measures approx. 210×297 mm and is printed on white cardboard. In the upper part, it shows a blue light bar with a siren and a text display used in many emergency vehicles of the BOS (Behörden und Organisationen mit Sicherheitsaufgaben – authorities and organisations with security tasks). In the lower part, different emergency equipment of the various BOS is shown.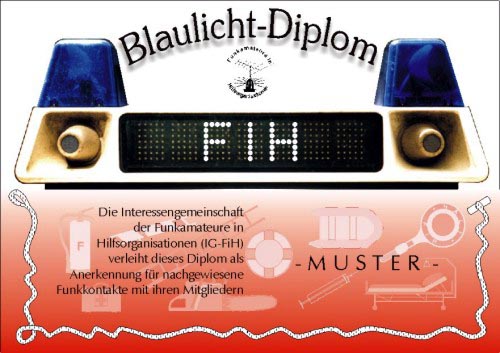 The diploma was redesigned for a new edition in May 2021. The previous design is shown here.
Update: 2021-05-01